Shadowhunter Weekend Day 2: Cassandra Clare at YALC + a worldwide giveaway
It is the second day of our Shadowhunter Weekend recap and today we will tell you what happened at Cassandra Clare's event at the Young Adult Literature Convention on July 18. This talk was once again moderated by Sarah Rees Brennan and like the Q & A the day before, it was over way too soon.
Due to YALC's policy we were not allowed to film the talk, but we have still managed to sum up Cassie's answers.
Cassie first talked about Lady Midnight and gave a short overview of the most important details: first book in her The Dark Artifices series, it is set in her hometown Los Angeles and it takes place five years after the events of City of Heavenly Fire.
She addressed the challenges of writing Lady Midnight because it is a huge book and it is the first real mystery she has written, clues have to be collected and the characters almost act like detectives. The structure of the book is very different and caused her to bang her head on a table. Weaving all the different Blackthorns and their personalities together was definitely a challenge and since the characters from The Mortal Instruments will also "check in", Cassie needed to figure out what they are like as adults and what is going on in their lives ("There is at least one engagement").
Emma was a lot of fun to write since she has known from the start that she is a Shadowhunter whereas Clary and Tessa did not know anything about the Shadow World. Emma is a badass,she trains constantly, she loves her weapons and "she is a little bit of a girl Jace".
Her parabatai Julian is completely different, much calmer and focused on his family. "It was interesting to write a bit of a gender-flip about what people tend to expect from men and expect from women."
Cassie then talked about The Last Hours, the sequel to The Infernal Devices, and its main characters which live in London. "It takes place around 1903 which is an awesome time period in history and I've been having a lot of fun researching it."
Most of the parents in these books are a little questionable – dead, evil or missing. Except for Will and Tessa who are great parents.
Since Cassie came straight from the set of the Shadowhunters TV show, she told the audience about watching the filming, meeting the actors and talking about their characters. She also had dinner with the cast and had "a really lovely time".
For Cassie it is "interesting to have a show after having a movie, because they're such different formats. Also because we already had a cast that played these parts and that I really loved … It was interesting to get used to a whole new cast … They are approaching the characters in different ways" since the characters in the show are written differently.
While on set she was shown a sizzle reel, "highlights from the stuff they've already filmed", and she also saw some funny dailies. One was Dominic Sherwood in Pandemonium and he kept holding his sword wrong so they had to do it again, which also ended up wrong so Dom swore a lot.
Cassie revealed that she developed a crush on Valentine while she was on set.
She also watched Harry Shum Jr. as Magnus film a scene and she described him as graceful. Since a lot of fans want Magnus to dance on Shadowhunters, they talked about it and Harry said "maybe".
After the TV show talk, Cassie talked about the different layers of the world she made up. At first there were vampires and warlocks, but then Silent Brothers and Iron Sisters were also added and the already established world got even bigger.
Cassie always wanted to add more to it and to created more magic so the Praetor Lupus, the Council were introduced. The reopening of the Shadowhunter Academy also changed a lot of things and "by the time that we get to The Dark Artifices, they have also reopened this school called the Scholomance which is up in the mountains and trains really elite Shadowhunters called Centurions."
Adding new layers to the world was a lot of fun since you do not want to stay with the old stuff.
Sarah Rees Brennan also teased that we will see one of the specially trained Centurions in The Dark Artifices.
After twenty minutes fans were then able to ask some really great questions.
One fan wanted to know which Shadowhunter bloodline Cassie would want to belong to. First she wanted to pick the Fairchilds because of the red hair and freckles, but then she decided on the Blackthorns since they are such a big and close family and as an only child, having so many siblings is appealing to her.
Another fan asked for Cassie's favourite type of Downworlder and her favourite quality about them: warlocks because she would like to live forever. She would not want to be a vampire because they have to drink blood which is disgusting and they also cannot go out during the day. "Warlocks seem to have it pretty great."
Sarah prefers vampires and she would just drink Jace or Clary's blood – "I'd drink Jace like a smoothie" – so that she could walk in the sunlight.
Jace gets to know Tessa and gets told stories of what has happened in the Herondale manor.
Jem is always interested in what Emma is doing and checks up on her because she is a Carstairs.
Cassandra and Sarah also talked about collaborating on The Bane Chronicles and Tales from the Shadowunter Academy. They live far away from each other so they write "over the computer". Cassie, Sarah, Maureen Johnson and Robin Wasserman all sat down together to plan out Tales from the Shadowhunter Academy. They picked the stories based on favourite characters and themes. When it is time for the individual stories, the collaborator sends an outline, a rough draft gets written and someone else will edit everything "until we get a combined version of a story."
Cassie's collaboration with Holly is very different compared to this since they write Magisterium together in the same room, but do not have a planned outline. They take turns writing and editing the other's paragraphs.
Cassandra's author friends sometimes help her with certain scenes by playing them out.
(Sarah Rees Brennan was Magnus and Cassie's husband Joshua was Henry)
Jem would be sympathetic, but wouldn't get her off the island; Will would just sunbathe; Jace would be practical and build a raft, but he would annoy Cassie so that's another reason why she picked Magnus.
Another fan wanted to know about forbidden love in Cassie's new books and she teased that there is definitely forbidden love in The Dark Artifices and some in The Last Hours.
She likes to write about all types of love; Magnus and Alec because they are so different or Simon and Isabelle since Simon first likes her and then it is turned around. The power balance that goes back and forth is interesting. Gideon and Sophie's love was not forbidden but it was about crossing class barriers for love.
The idea of what you could do if you were not afraid sounds great. The fearless rune does not only make you not afraid in battle, but also not afraid in life in general. Anyone gets held back by fear and therefore does not do something they would want to do and the rune would enable them to follow through.
In her penultimate answer Cassie talked about the differences and difficulties of novels and short stories. "With a short story you have to convey a lot in a much smaller space". In a novel you obviously have more space, but you also have to pay attention to the pace and remember all the story lines.
The last question dealt with different point of views and whether switching between the characters and chapters is hard. Cassie enjoys multiple point of views, jumping from one head into the next, but they can be hard because you have to keep track of everything that is happening and match up all the times (Hell – Idris – New York).
Cassandra's second London event ended with another signing where over 300 fans got their books signed.
Saturday was another fabulous day with Cassandra Clare and Sarah Rees Brennan and I am already looking forward to meeting them again. I also cannot thank them and my friends from British Nephilim and Dutch Nephilim enough for an absolutely incredible time in London. Having fellow Shadowhunters as friends is the best. ♥
And now for the giveaway: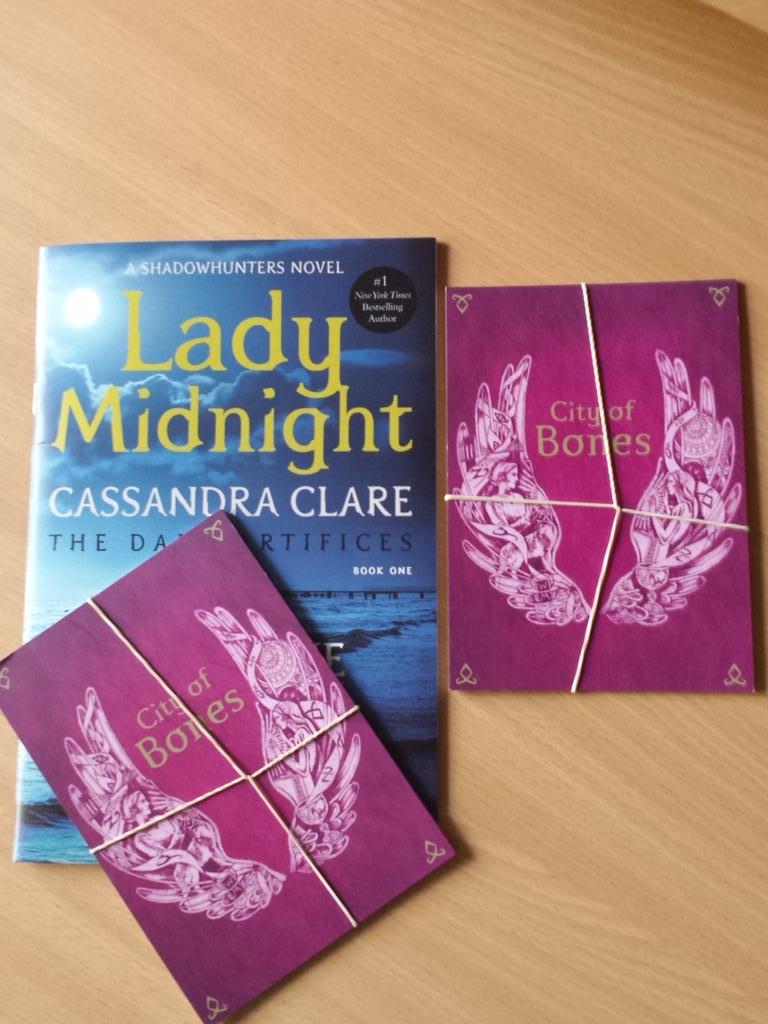 One fan has the chance to win the Lady Midnight chapter sampler and postcards of the new UK TMI covers and another fan can win the postcards.
Fill out the Rafflecopter form (tweet and follow) and leave a comment and your name on either this post or day one of the Shadowhunter Weekend recap – we will check.
Good luck!