Happy release day to 'Through Blood, Through Fire'
Print Edition of 'Ghosts of the Shadow Market' to be released on June 4, 2019
Today we have to say farewell to Ghosts of the Shadow Market because the short story collection's final ebook is available now! We went on several adventures with everyone's favourite Silent Brother; some broke our heart (I'm looking at you Cast Long Shadows), some made us smile because some characters were completely adorable (both Max Lightwoods and Rafael), and some made us wonder about the mysterious First Heir that was introduced in Lord of Shadows. But before we really say goodbye to Cassandra Clare's short stories, let's wish her and Robin Wasserman a happy release day! 😀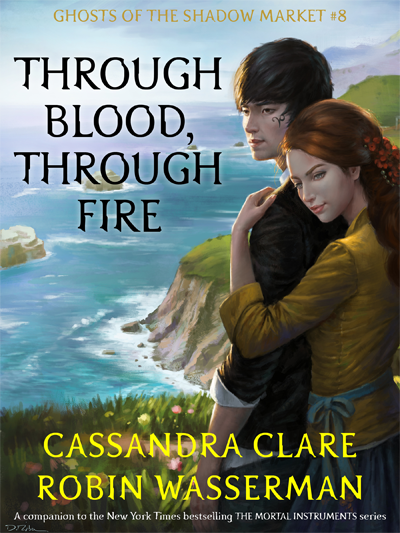 We're incredibly lucky to have two synopses for Through Blood, Through Fire so let's have a look at them:
Jem Carstairs and Tessa Gray are finally united after waiting over a century to be together, but they become aware a dark threat is looming over a child of the Shadow Market: a lost Herondale, from a line of Herondales who have used the Market to hide from their fellow Nephilim. Now is the time for the lost Herondale to be discovered. Jem and Tessa have to find him before his enemies can. (x)
Through Blood, Through Fire was a fantastic conclusion to Ghosts of the Shadow Market! Cassie and Robin did a superb job with the lost Herondale story arc. I got so emotional while reading the ebook and it makes me even more excited to finally read Queen of Air and Darkness on December 4!
A massive thank you to Cassie, Sarah, Maureen, Robin and Kelly for writing such amazing stories. I do hope you'll get together again to write yet another The Shadowhunter Chronicles story collection for us ♥
You don't actually need an ebook reader, Kindle or Nook to read The Land I Lost. If you have an Amazon account, you can download the free Kindle Reading Apps for smartphones, computers or tablets.
Amazon US/Amazon UK/Amazon Germany/Amazon Canada/Amazon France/Amazon Spain/Amazon Italy/Amazon Australia/Amazon India
If you don't like ebooks, you can listen to Candice King's narration of Through Blood, Through Fire on Audible with a free 30-Day Trial.
Did you listen to all of the audiobooks? Who was your favourite narrator? And what was your favourite ebook out of the eight stories?
A print edition of Ghosts of the Shadow Market with two additional stories (Ghosts of Old Loves and Forever Fallen) is going to be published on June 4, 2019. Have a look at the stunning cover below 😉