Catch up on all the different 'Chain of Iron' editions!
A very happy Wednesday to all of our readers! We got exciting book news yesterday so it is now time to sum everything up. The special UK editions for Cassandra Clare's Chain of Iron were revealed on social media and in Cassie's newsletter so let's have a look at them and the other editions that are available for purchase.
Let's start with the special editions from the UK:
"All these special editions of Chain of Iron will include ten black and white character silhouettes by celebrated cut-paper artist Kathleen Jennings."
Cassie recently shared one character silhouette on Instagram and it looked amazing!
1) The always popular Waterstones edition: (Edited on Friday, Nov. 20 at 11:45 am EST) SOLD OUT!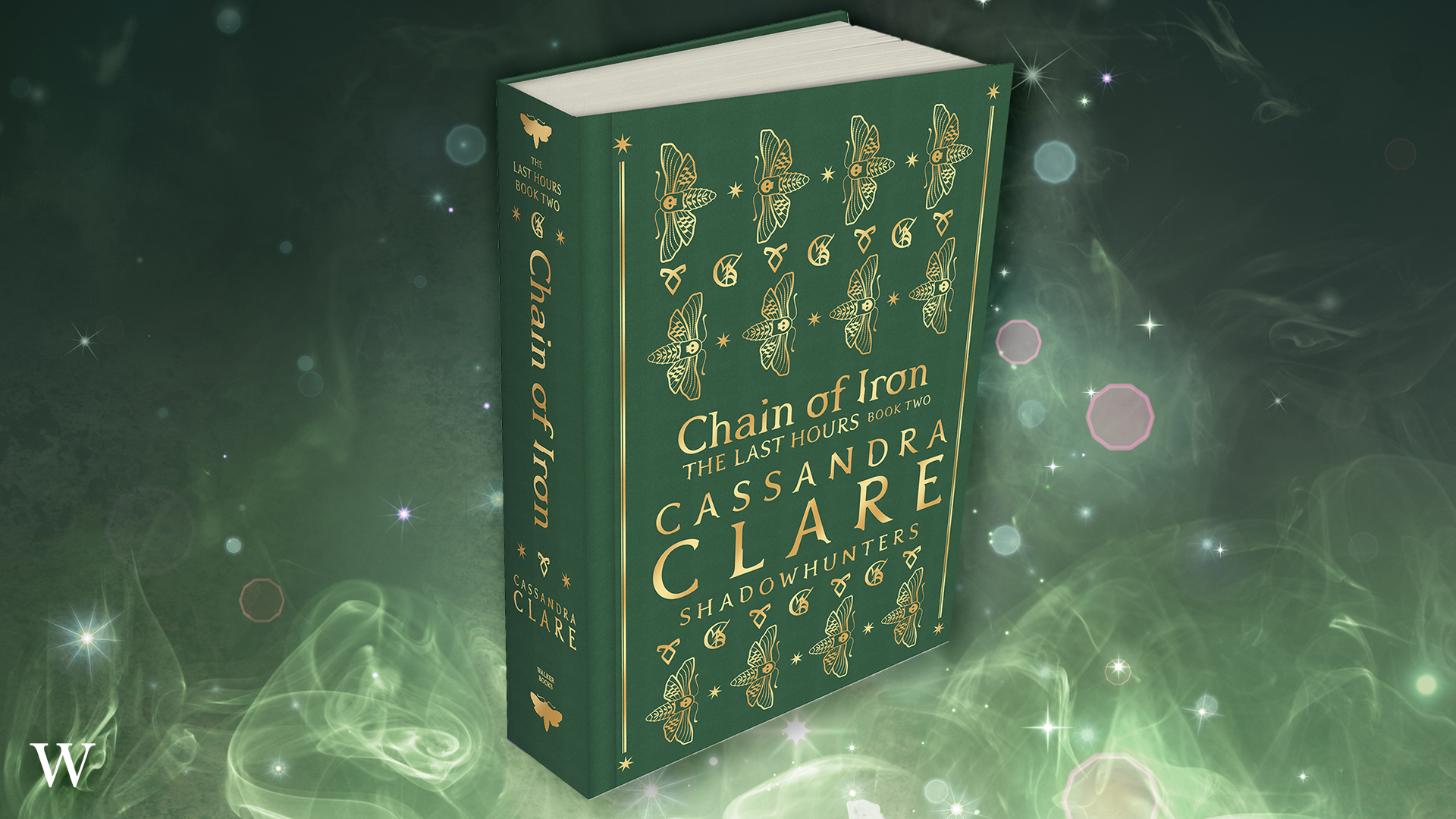 This exclusive hardback edition features a wibalin and gold foil cover and yellow endpapers, and is stamped with Cassandra Clare's signature. It contains all of the bonus content found in the first edition of the book, plus an additional short story exclusive to this edition: a scene from Chain of Gold written from Cordelia's perspective.
Cassie said this about the short story: it is "called "Fever." It is a retelling of the section of Chain of Gold where James catches scalding fever and Cordelia reads to him, resulting in a development of new emotions for both of them. This time, though, we're in Cordelia's point of view!"
This edition sells for GBP 16.99 (plus shipping, it's either GBP 9.00 or GBP 12.50 depending on where you live). You can click this link to check delivery options and prices.
2) Here is the edition that FairyLoot are selling next week: (Edited to add) SOLD OUT!
This "copy will have stunning stencil sprayed edges, a redesigned black cover with silver foil, a stamp signature and will include the artwork that all first editions feature."
This edition will be GBP 17.50 plus shipping. There is no pre-order link for this book yet, but as soon as the general sale is live on November 19, we are going to tweet a link – follow us on @TMI_Source – and also add it to this article!
You can find FairyLoot's Instagram post with more information here.
3) Illumicrate are selling the edition below: (Edited to add) SOLD OUT
The books will all be stamp-signed with Cassandra Clare's signature, will include the same bonus material (including artwork) as other UK first editions, and will feature all exclusive:
Cover with gold foiling
Sprayed edges
Quote on the spine
All orders will come with a bonus art print by Noverantale with an author letter from Cassandra Clare on the back.
This edition can be purchased for GBP 20.00 plus shipping. Check out Illumicrate's Instagram post for more information.
And now for the US Chain of Iron edition: LitJoy are selling a first edition hardcover in an exclusive slipcase for $35.99 plus shipping.

 Here's what you will get if you purchase this edition:
A publisher's Collector's First Edition of Chain of Iron (Hard Copy)
TEN illustrations of the main characters
BONUS short story of Brother Zachariah and Magnus Bane on a mission
A FREE exclusive print of a character
A LitJoy-designed slipcase with artwork by Kim of @pinktofu_art
LitJoy custom Signed bookplate from Cassandra Clare!
A BONUS LETTER from a character, written by Cassandra Clare for LitJoy customers only!
If you bought LitJoy's Chain of Gold box, check whether you're able to redeem some reward points to save money for this order.
All the special editions above are scheduled to ship in March 2021 and it depends on the shop when you are going to get charged for your order.
Edited (on Wednesday, Feb. 3 at 2:50 pm EST):
Another Chain of Iron edition just showed up!
Cassie's UK publisher Walker Books announced the following:
Please note that readers from the US, Canada and the Philippines cannot buy this tour edition because of international export rights.
All the UK edition of Chain of Iron are sold out, but you can still get your copy from LitJoy!
~*~
Of course there are also the regular US and UK editions (aka hardcovers) for Chain of Iron!
The US Collector's Edition of Chain of Iron (= the first edition) and the UK Collector's First Edition will have the same special content: the ten illustrations and the short story featuring Jem and Magnus.
You can now pre-order Chain of Iron (US hardcover) online: Barnes & Noble / Amazon US / Books-A-Million / IndieBound / Book Depository / Amazon Canada / Indigo.
Other Amazon links: Germany / France / Italy / Spain / Brazil.
The ISBN for the US hardcover is 9781481431903 in case you want to pre-order your book at a local/indie book shop. The UK's ISBN (hardcover) is 9781406358100 and here are a couple of pre-order links for you: Waterstones / Amazon UK / Book Depository.
How to get a collector's edition:
The answer is very simple: pre-order the English book! It does not matter if you live in the USA, Canada, the UK, Ireland, Australia or New Zealand, you could live in Germany, France, Turkey, South Africa, India, Peru, Argentina …: As long as you pre-order the English edition of Chain of Iron, you will get a first print run (= the collector's edition). But – yes, there is a but. Make sure to pre-order your book as soon as possible because the edition is available while supplies last.
Other questions:
I pre-ordered my book before the collector's edition was announced, will I still get the bonus content? Yes, you will. A pre-order is a pre-order.
I pre-ordered my book online but there was no 'Collector's edition' mention on the book cover. Will I still get the art and short story? Yes. Maybe the shop didn't have the correct image file, they forgot to update the cover or they simply are too busy at the moment.
I live in Italy (or any other country that's not the USA, Canada, the UK, Australia and New Zealand), will the Italian publisher also publish the bonus content? When will the book be released? Foreign language editions and their bonus content are always up to the publisher so if you want the bonus content, maybe a polite email will help. 🙂 Authors often do not know when translations of their books will be published. Ask the foreign publisher or use Google.
Chain of Iron is published on March 2, 2021!